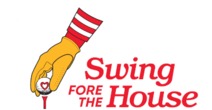 Shop Items

Categories

No items available, please check back later!

Featured

N/A
Details

What:
Swing Fore the House Golf Shamble
Where:
Keene Trace Golf Club- Champions Course
When:
Tuesday, June 6, 2017
Attire:
All guests must wear appropriate golf attire. This would include collared shirts, and exclude such items as cut-offs, tank tops, tee shirts, gym shorts, and jeans. No spike shoes.

More Details

About Us

Ronald McDonald House Charities of the Bluegrass

Quick Links

Shop by Category
Swing Fore the House Golf Shamble


**Click "Purchase Tickets" above to register your team today!**

2017 marks the Fifth Annual Swing Fore the House Golf Tournament.

The charity golf tournament takes place in the beautiful Bluegrass on one of the premier courses in Central Kentucky. Keene Trace Golf Club provides the perfect combination of golf, club and tranquility. Enjoy a box lunch provided by Keene Trace, a day of golf, a $200 voucher to shop for your favorite Peter Millar or Birdies and Bows (a new premier women's line) Golf Apparel, and a networking reception all while knowing that you could help keep a family close to their child's hospital bed by supporting the Ronald McDonald House.

Sponsorship opportunities are still available! If you have any questions about the Sponsorship Packages, please contact Sarah Jordan at sjordan@rmhclexington.com or (859)268-0757.

For questions on registering your team, please contact Shannon Petit at spetit@rmhclexington.com or (859)268-0757.

**When registering your team, please enter each players handicap in the 'special requests' section**

Day of Itinerary:

Registration Opens-
10:30 a.m.

Peter Millar & Birdies and Bows Pro Shop Opens-
10:30 a.m.

Practice Tees Open-
10:30 a.m.

Lunch Opens-
11:00 a.m.

Shotgun Start-
12:30 p.m.

Dinner, Music & Awards Reception-
5:00 p.m.- 7:00 p.m.

This year we have lots of fun activities in store. We have Hole-in-One Grand Prizes. Be sure to stick around until the end for a networking reception where you will enjoy live entertainment. Awards will be given away during cocktail hour for those attending. Normal features include longest drive, longest putt, closest to the pin, and first and second overall winners. Mulligans & Skirts will be sold during registration.

Countdown

You missed it!

Sponsors